THE READING CIRCLE with MARC MEDLEY
LISTEN SATURDAYS AT 6 A.M. ET TO GOBRAVE.ORG
The Reading Circle with Marc Medley is heard live every Saturday at 6 a.m. Eastern Time locally in northern New Jersey on WP88.7 FM and webcasts around the world on www.gobrave.org. Each week authors showcase their work during a lively, fact-filled and fun interview. The aims of the show are to gain exposure for authors and more importantly to increase an interest in reading overall. You can listen to archived interviews and are invited to subsribe to The Reading Circle YouTube Channel seen below. Check out Mr. Medley's blog The Critical Thinker, a venue where he shares his thoughts and welcomes your commentary.
Archived Shows on YouTube
BRAVE NEW RADIO - Saturdays at 6 - 9 a.m. ET
The show is heard live on WP88.7 FM and www.gobrave.org at 6 a.m. ET each Saturday. Tune in and be enlightened.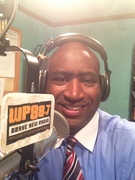 Your Host - Marc A. Medley
Marc A. Medley has been the host of The Reading Circle with Marc Medley for twelve years. Over the years he has interviewed notables such as Nikki Giovanni, Karen Hunter, Rehema Stephens, Judge Glenda Hatchett, Robin M. Downs, Carol Hill-Mackey, Cora Daniels, Russel Blake, Braxton Cosby, Janks Morton, Kimberla Lawson Roby, Valorie Burton, Dr. Bertice Berry, Omar Tyree, Dr. Dennis Kimbro, Dr. Virgil Wood and many many others. The Reading Circle is a wonderful tour stop for independent authors who are seeking exposure of their work.
Mr. Medley holds degrees in Business Administration, Corporate and Organizational Communications and Educational Leadership. He uses his knowledge acquired from his education and experience to provide a thought provoking, exciting and fun filled show each week. When he is not hosting The Reading Circle, he is the principal of a K-8 elementary school.